Listen. I could sit here all day and rattle off a list of things that make your hipster lifestyle decidedly uncool, but what I'm really about to say is going to rock your faux-original world. While you and your mustaches and vinyls and short shorts strut around sipping lavender-infused coffee, you're all blissfully unaware of the fact that you've failed in your attempts to be misunderstood beatniks with a flair for originality.
Why's that? Well, because your dads did it first. Don't believe me? Just ask author and copywriter Brad Getty. He's the mastermind behind a little book by the name of Dads are the Original Hipsters, and he's here to shut your nonsense down. Eat your hearts out, first movers. Dad was moving long before you.
The book is essentially a compilation of legendary hipster dad photos that are presented alongside Getty's painfully accurate (and at times NSFW) commentary. Here are a few of the best.
"Your parents had a non-traditional wedding before you did, and their marriage might not be legal to prove it."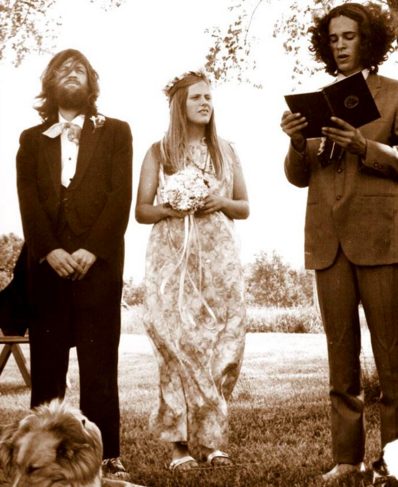 "Your dad sucked at his job before you did."
"Your dad was a street artist long before you put up your first shitty wheatpasting."
"Your dad went green before it was cool, and he has the t-shirt to prove it."
"Original at everything since '76."
"Your original hipster dad and his crew of dirt balls."
"Bill and Hillary Clinton were the original hipsters."
"Your dad had hangovers, and the worst part was realizing that the mistake he made last night was making you."
"Throwback Thursday to when your dad was a DJ before you were, and he played music so obscure that you've never even heard of it."
"Hipsters, your shit-whip will never compare to your dad's badass ride."
"Fall/winter 2014 look book."
"Your dad was a struggling indie artist before you were."
"Selfie game king since '76."
(via Tumblr)
I'm sorry that you had to face the reality of your fraudulent existence this way, hipsters, but it had to be done. Take this opportunity to re-evaluate your position in the world, get a handle on those convoluted political opinions that you don't actually understand, and start drinking regular espresso like a normal person. Because that's exactly what you are — normal.
To further confront the mortality of your image, be sure to check out more of Brad Getty's work on his website and Tumblr.
Here's How To Make Your Favorite Ice Cream Truck Treats Before The Summer's Over: Click "Next Page" below!