When you think of essential home furniture, a couch, a coffee table, or a bookcase might come to mind. You probably don't think of a bar cart as a necessity, but they're a fun way to add some extra spice to your home. Great for entertaining, they inspire thoughts of black-and-white movies and Hollywood starlets sipping martinis. But before you buy a bar cart from your local furniture store, you might have something hanging out in your garage, or collecting dust in your basement, that could easily be turned into a cart with character. Check out the DIY bar carts below and get crafting. We won't judge if you enjoy a cocktail in the process…
1. Tool chest bar cart
I love the element of surprise incorporated with this bar cart. "Why do you have a tool chest in your living room?" SURPRISE, it's a bar cart.
2. Vintage television bar cart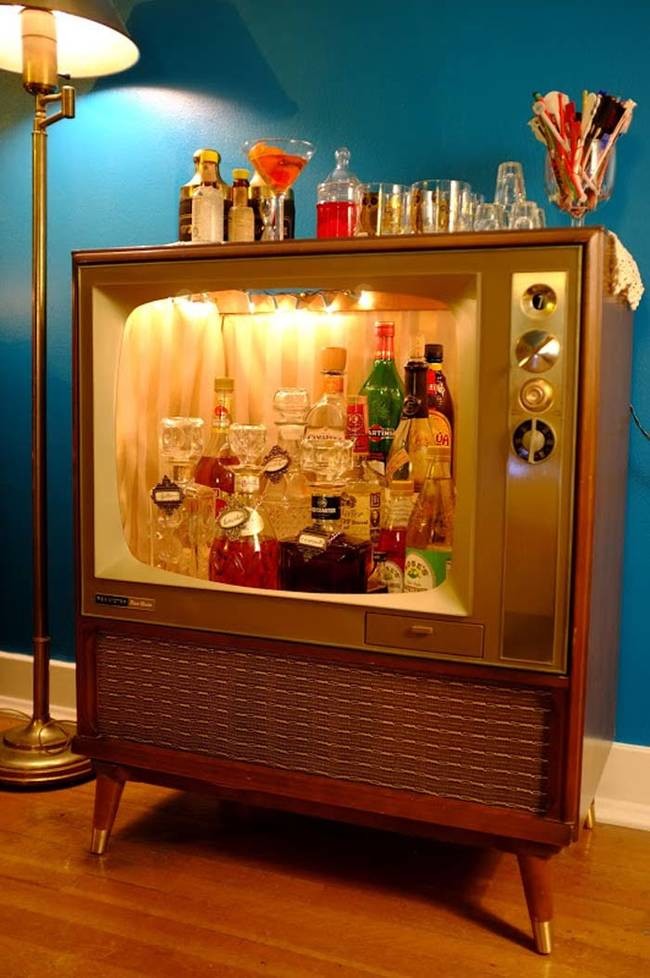 It takes some skill to remove the wires and glass, but the results are amazing.
3. Tool cart bar cart
If you don't want an ugly tool table hanging out in your home, this upcyled cart is a great alternative.
4. Bookcase-turned-bar cart
This one just requires a coat of paint, some contact paper, and a few racks from the hardware store.
5. Recycled wagon bar cart
If you have a vintage wagon from your childhood, this is an awesome way to bring it back to life.
6. Refashioned TV console bar cart
If you switched to a plasma TV, this DIY is practical and easy.
7. Sewing cabinet bar cart
This is a great way to recycle an antique for modern use.
8. Suitcase-turned-bar cart
This one is neat, but takes some serious DIY skills.
9. School locker bar cart
No DIY necessary, just fill it with booze!
10. Changing table-turned-bar cart
Once the baby has grown out of it, of course…
11. Door-turned-outdoor bar
Impress your guests at your next outdoor gathering.
12. Utility cart bar trolley
This bar cart came from Sam's Club for only $60.
After checking out these ideas, I can already think of two or three pieces of furniture in my home that I could transform into a bar cart. Now the hard part is going to be deciding which one I want to use! Will you upcycle your old furniture for a fun, boozy cart?
Here's How To Make Your Favorite Ice Cream Truck Treats Before The Summer's Over: Click "Next Page" below!