If you've ever had an ingrown fingernail or toenail, then you know how painful they can be.
The things are downright disastrous. They occur when the nail grows into the skin surrounding it, and people with thick, curved nails are most susceptible to getting them. They are incredibly painful and can make everything from putting on socks to walking truly miserable.
And most of the time, they require a visit to the doctor's office for surgical removal, which is a total drag.
Doctors will remove the infected tissue and effectively dig out the nail.
They then clean the wound and flush the bacteria out.
After that, they use a tool to get under the ingrown portion of the nail and cut it out of the foot.
But if you're someone who's in relatively good health, there are ways that you can do this at home. Just be advised that if you have diabetes or any vascular condition, you cannot do this at home and must see a doctor immediately.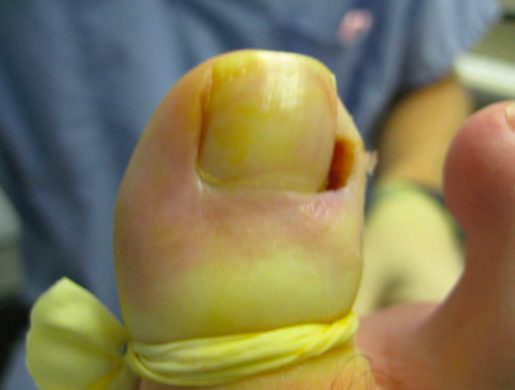 Start by placing your feet in a large bowl or tub of hat water mixed with one teaspoon of Epsom salts, which you can find at any drugstore or big box store. Leave your feet in there for 20 minutes a day until the infection is mostly cleared and the skin around the nail is supple.
After that, use something to lift the nail ever so slightly and then place a small piece of cotton under the part of the nail that's growing into the foot. Leave it there so that the nail can begin growing outside of the skin.
Apply a generous amount of ointment to the area and then bandage the toe up. Neosporin is a good antibacterial choice.
From there, just monitor the wound and repeat the process over until it has healed and you can cut the nail. To prevent ingrown toenails, avoid trauma to the feet and be sure to keep up with your nail-cutting habits so that nails can't get too long.
Here's How To Make Your Favorite Ice Cream Truck Treats Before The Summer's Over: Click "Next Page" below!