It can be difficult to narrow down exactly what you want inked into your skin for life when deciding on a tattoo. Some might go for a favorite literature reference, like an homage to a specific book or author that resonated with them. Maybe they'll look to their partner in crime for a cute couples tattoo.
These people decided their flesh was best used as a canvas for only creepy and terrifying tattoo art. Could you imagine showing up to a first date and seeing one of these on someone's arm? Or worse… your kids bringing that person home to meet grandma this Christmas? Yikes.
1. A valley zombie girl is just as gross as other zombies. Got it.
2. Ronald McDonald's demon son.
3. I'm pretty sure this person looked better when alive.
4. This is almost quirky, but it veers hard into creepy.
5. The super detail would be impressive if it wasn't super creepy.
6. Can we please just leave baby dolls alone?
7. Yep, this will haunt my dreams forever.
8. This person needs to see a doctor (to get this removed).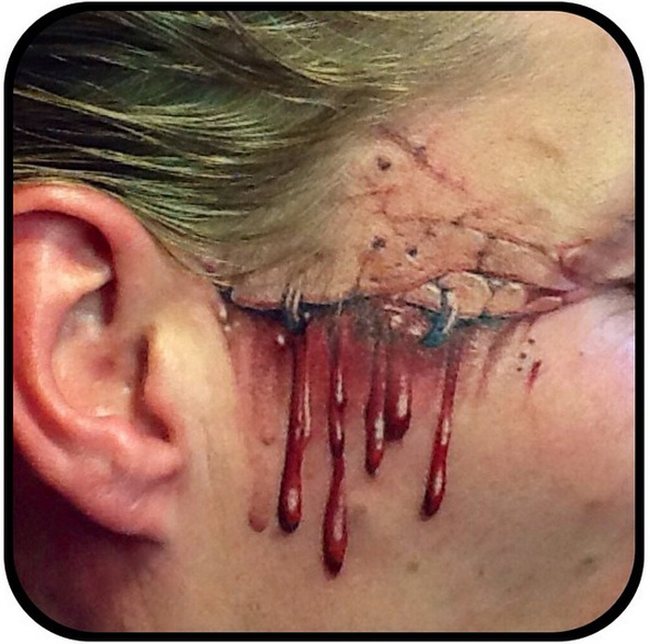 9. What a sweet homage to your grandpa.
10. Just thinking about how much this probably cost is terrifying.
11. It's a pretty uncanny likeness.
12. No. Nope. Nooooo.
13. I guess I didn't really need to sleep again.
14. This tattoo is where they imprisoned their good taste.
15. A match made in hell.
16. Uhh there's something wrong with this woman's skin…
17. Because I like continually swatting away things that are drawn on my skin forever!
18. Please go to a dentist. Soon.
19. The transformation from normal human to spooky specter on one arm.
20. You would think googly eyes would make this a little less creepy, but nope.
21. It's a good thing I don't want kids anyway.
22. THE ACTUAL WORST TATTOO EVER.
23. Eye tattoos = creepy. THIS eye tattoo = the CREEPIEST.
24. This is so messed up and is making me feel very weird.
25. The beehive pun I like. The creepy doll girl under I'm not so sure about.
26. This guy is two for two on creepy tattoos.
27. "I actually asked for a butterfly, but this is cool, I guess."
(via BuzzFeed.)
Now I need to go clear my head and pray I never meet these people in real life. What thoughts did they have in their head when they decided on these designs? These are just too creepy.
Here's How To Make Your Favorite Ice Cream Truck Treats Before The Summer's Over: Click "Next Page" below!