Since the dawn of man, there have always been strange physical depictions of human beings. These creations are/were generally used to entertain children and inspire imaginations. We tend to call these objects "dolls."
I don't know what it is about dolls, but I personally have never seen their appeal.Honestly, dolls are pretty creepy, and they have been so throughout the history of the human race. Observe—
The prehistoric dolls were commonly made out of wood, fur, or clay. Surprise! This one was made out of bones.
Off to a good start.
Paddle dolls like this were made by the Egyptians as far back as 2000 BC. They liked to use real human hair and string beads on these bizarre paddles.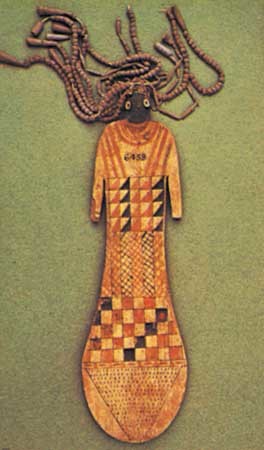 Why use real human hair and then make the doll look anything but human? I don't understand.
Like most things Roman, ivory and wooden dolls the ancient children played with were completely naked.
Oh, Romans.
The Greeks played with mostly clay dolls that looked like awful toothbrush people.
The inventors of democracy also made this piece of crap.
In the 16th century, the Germans played with wooden peg dolls like this one.
It sucks that this doll has knives for hands and matches for feet.
In the 17th century, the Germans became obsessed with these wax dolls. People stylized their clothing based on popular nobles.
Due to inbreeding, the doll's face is actually a pretty accurate representation of what European nobility looked like back then.
The faces and clothing of the wax dolls improved in England during the 1800s.
Still, the makeup job makes it look like a tiny, weird corpse.
In the 19th century, porcelain became the standard in doll making, particularly in the popular "bebe" dolls from France.
What age is this doll supposed to be? She looks like a toddler, but her hair is thick, like a 30-year-old woman?
Although porcelain dolls were still sold as decorative items (they still are, according to East Coast moms), celluloid dolls in the 1900s replaced them during playtime.
Why does every East Coast home have a bedroom solely populated with creepy porcelain dolls?
Dolls in the 1940s were made from an even cheaper material—hard plastic.
Quantity over quality, I guess.
In the 1950s, companies started making dolls out of rubber for some godawful reason.
The manufacturers were so preoccupied with whether or not they could make them this way that they didn't stop to think if they should.
Dolls today are mostly made of polyvinyl chloride, a super-fun sounding substance that is a thermoplastic polymer mixed with a plasticizer.
Despite what Aqua said in the "Barbie Girl" song, they are not "made of plastic." Not totally.
History proves that dolls have always been and always will be creepy. I guess I might as well just get over my fear, because it doesn't seem like human beings are going to stop making them anytime soon. Perhaps our children might focus on playing with other human beings instead of dolls. That would be a lot cooler than children playing with tinier fake children.
Here's How To Make Your Favorite Ice Cream Truck Treats Before The Summer's Over: Click "Next Page" below!