Coyote Peterson from Brave Wilderness has made a name for himself by constantly getting in harm's way in interactions with dangerous animals.
It comes as no surprise to those who are familiar with Peterson that in his latest wildlife video, he attempts to handle a venomous creature without being bitten. However, that doesn't make it any less terrifying to watch, especially for those who have arachnophobia.
In the area surrounding his house, Peterson searched for a black widow and found one underneath a rock. He wanted to test whether she would bite him when held.
Being knowledgeable about this particular species, he wasn't concerned that her venom would kill him. Contrary to popular belief, they aren't actually very aggressive towards humans and most people recover from their bites in about a day with treatment.
That said, he definitely began to grow nervous as the spider crawled around on his arm.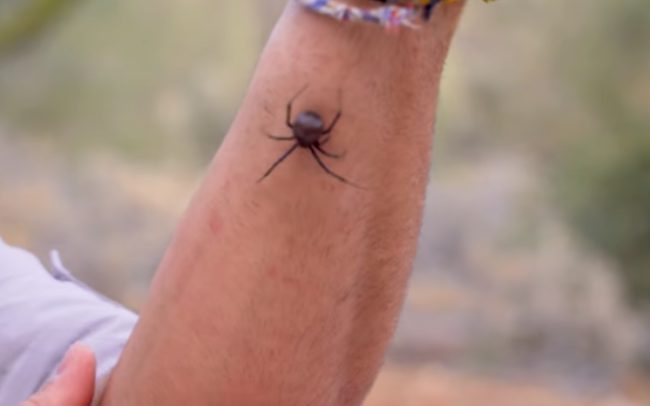 Their bites may not be as bad as people think…
…but they're definitely painful.
Watch Peterson handling the creature below as he finds out whether he'll be bitten or not. Do NOT try this at home!
I really do think that spiders are amazing creatures, but I'm very happy to admire them from a safe distance. Share this video if watching it made you tense up in fear.
Here's How To Make Your Favorite Ice Cream Truck Treats Before The Summer's Over: Click "Next Page" below!