People experiencing homelessness often face huge barriers to housing and income.
It's something we don't talk about a lot, but it's awfully expensive to be poor. For parents facing homelessness, the concerns are even higher, and the rates of homeless families are on the rise. "What we've seen change from last year to this year is the amount of families that are unsheltered," said Devra Edelman of the Hamilton Families Shelter. "Families that stay in cars, tents…say that they're in an uninhabitable living situation. The number of unsheltered families has increased from 10 percent last year to almost 30 percent in the first six months of 2017."
One homeless mother in San Francisco has just been trying to survive. Unfortunately, after some photos of her went viral, she's now facing harassment, too.
Megan Doudney, who gave birth just a few weeks ago, says she's trying to support her baby. "I'm doing the best I can," she said. "I live on a fixed income and that income only lasts so long…Once that's gone, yeah, I'm going to do what I need to do to support my child."
She and her baby are currently living at the Hamilton Families emergency shelter. The shelter offers parenting classes, medical care, meals, and housing.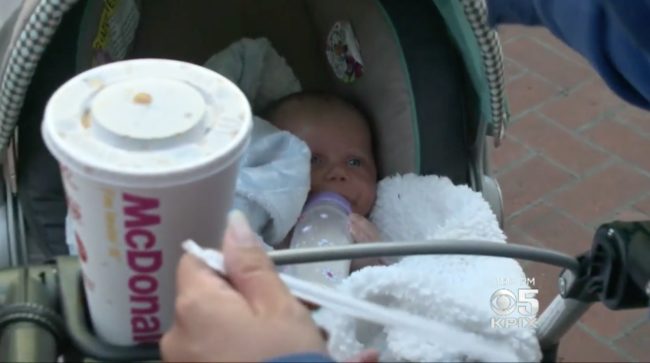 She's also facing a lot of judgment, even from strangers online. A woman named Olya Levtushenko has been photographing her and posting the images on Facebook, insinuating that her child should be taken away and that Doudney is just "using her child to make money."
Levtushenko has even compared the baby's condition to human trafficking and prostitution online. Doudney, however, just wants to be left in peace. "I've asked them several times, please don't film me, don't film my baby," she said. "I am a human being."
Learn more about Doudney's struggle and the harassment she's facing in the video below.
https://w3.cdn.anvato.net/player/prod/v3/anvload.html?key=eyJtIjoiY2JzIiwidiI6IjM3MDQyODkiLCJhbnZhY2siOiJhbnZhdG9fY2JzbG9jYWxfYXBwX3dlYl9wcm9kXzU0N2YzZTQ5MjQxZWYwZTVkMzBjNzliMmVmYmNhNWQ5MmM2OThmNjciLCJwbHVnaW5zIjp7ImNvbXNjb3JlIjp7ImNsaWVudElkIjoiMzAwMDAyMyIsImMzIjoiU2FuRnJhbmNpc2NvLmNic2xvY2FsLmNvbSJ9LCJkZnAiOnsiY2xpZW50U2lkZSI6eyJhZFRhZ1VybCI6Imh0dHA6Ly9wdWJhZHMuZy5kb3VibGVjbGljay5uZXQvZ2FtcGFkL2Fkcz9zej0yeDImaXU9LzQxMjgvQ0JTLlNGJmNpdV9zenMmaW1wbD1zJmdkZnBfcmVxPTEmZW52PXZwJm91dHB1dD14bWxfdmFzdDImdW52aWV3ZWRfcG9zaXRpb25fc3RhcnQ9MSZ1cmw9W3JlZmVycmVyX3VybF0mZGVzY3JpcHRpb25fdXJsPVtkZXNjcmlwdGlvbl91cmxdJmNvcnJlbGF0b3I9W3RpbWVzdGFtcF0iLCJrZXlWYWx1ZXMiOnsiY2F0ZWdvcmllcyI6IltbQ0FURUdPUklFU11dIiwicHJvZ3JhbSI6IltbUFJPR1JBTV9OQU1FXV0iLCJzaXRlU2VjdGlvbiI6ImZlYXR1cmVkIn0sInN0YXJ0VGltZW91dCI6NTAwMH19LCJyZWFsVGltZUFuYWx5dGljcyI6dHJ1ZSwiaGVhcnRiZWF0QmV0YSI6eyJhY2NvdW50IjoiY2JzbG9jYWwtZ2xvYmFsLXVuaWZpZWQiLCJwdWJsaXNoZXJJZCI6ImNic2xvY2FsIiwiam9iSWQiOiJzY192YSIsIm1hcmtldGluZ0Nsb3VkSWQiOiI4MjNCQTAzMzU1Njc0OTdGN0YwMDAxMDFAQWRvYmVPcmciLCJ0cmFja2luZ1NlcnZlciI6ImNic2RpZ2l0YWxtZWRpYS5oYi5vbXRyZGMubmV0IiwiY3VzdG9tVHJhY2tpbmdTZXJ2ZXIiOiJjYnNkaWdpdGFsbWVkaWEuZDEuc2Mub210cmRjLm5ldCIsImNoYXB0ZXJUcmFja2luZyI6ZmFsc2UsInZlcnNpb24iOiIxLjUiLCJwYXJlbnRQYWdlVVJMIjoiaHR0cDovL3NhbmZyYW5jaXNjby5jYnNsb2NhbC5jb20vMjAxNy8wNy8yNi9ob21lbGVzcy1zYW4tZnJhbmNpc2NvLW1vdGhlci1kcmF3cy1zb2NpYWwtbWVkaWFzLWF0dGVudGlvbi8iLCJwYXJlbnRUaXRsZSI6IkhvbWVsZXNzIFNhbiBGcmFuY2lzY28gTW90aGVyIERyYXdzIFNvY2lhbCBNZWRpYeKAmXMgQXR0ZW50aW9uIMKrIENCUyBTYW4gRnJhbmNpc2NvIiwicEluc3RhbmNlIjoicDAiLCJwcm9maWxlIjoiY2JzbG9jYWwifX0sImh0bWw1Ijp0cnVlfQ%3D%3D
(via CBS SF Bay Area)
What do you think about her situation and the plight of homeless families? What can we do to help kids in need? Start the conversation in the comments below.
Here's How To Make Your Favorite Ice Cream Truck Treats Before The Summer's Over: Click "Next Page" below!