Being "green" is totally trendy right now. Sure, doing your part to help the environment is good for the earth, but it can also be good for your home. If you believe that a touch of country charm can be just as elegant as sleek, modern furniture, then the environmentally friendly reclaimed wood craze is perfect for you. By using wood pallets, fallen trees, and pieces of old barns to refurnish your home, you're cutting down on consumption and making your home look stylish to boot. Check out 18 inspirational ideas for reusing tired timber below.
1. Use slats of wood glued together as a canvas for artwork.
2. Cut reclaimed wood into arrow shapes and hang them on the wall for clean, yet rustic home decor.
3. Massive, salvaged nails turn this slat of wood into a cool wine holder.
4. Wood planks become a cute garden pathway, no sanding required.
5. Cover a kitchen vent in reclaimed wood to give the room a rustic vibe.
This is suggested for electric stoves only.
6. Attach hooks to planks of reclaimed wood to make bathroom towel holders.
Do it yourself or buy these here.
7. Use reclaimed wood and corrugated metal to make a hall tree.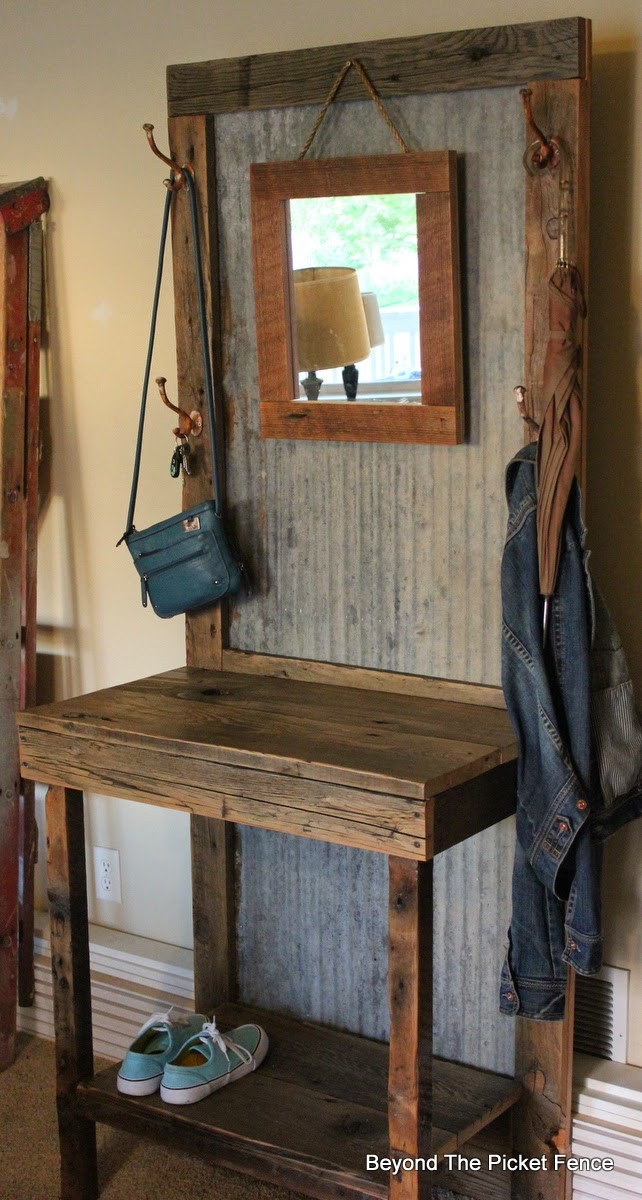 8. Turn reclaimed pallets into practical shelving.
9. Craft a super-cute end table with an old crate.
10. Make a rustic handrail from a tree branch.
11. Even if you only have small branches, you can still make a cool picture frame.
12. If you have some serious DIY skills under your belt, you can make this reclaimed wood sliding door.
13. Speaking of doors, this old door was turned into a coffee table.
14. A round pallet becomes a wall-art clock with iron numbers.
15. Glue a chalkboard to a slab of wood and hang it in your home for forget-me-nots.
16. Line your ceiling with wood planks.
This would look especially cute on a patio.
17. Make driftwood into hanging votive holders.
18. Attach thin pieces of wood to drawers and give a cabinet a rustic look.
That coffee table crafted from an old door is so cool! I don't have the DIY skills to make something like that, but I could easily make a chalkboard for my kitchen. Which one of these projects made you want to grab the wood glue?
Here's How To Make Your Favorite Ice Cream Truck Treats Before The Summer's Over: Click "Next Page" below!