If you're asked to think of an enchanted forest, Transylvania might come to mind…that, or some other made-up, vaguely European location in stories of old. But Oak Ridge, New Jersey? Not really.
But for nearly 50 years, the Fairy Tale Forest theme park captured the imaginations of children in rural New Jersey before finally closing in 2005. Since then, the park has been abandoned. Lucky for us, though, Redditor PennyLaane snuck in with her camera to show us if the magic still exists!
Fairy Tale Forest was once a popular amusement park in Oak Ridge, New Jersey. It was built by German immigrant Paul Woehle in 1957.
This is what the park looks like now. As you can see, Woehle's handmade buildings haven't lost much of their vibrancy, despite being completely vacant.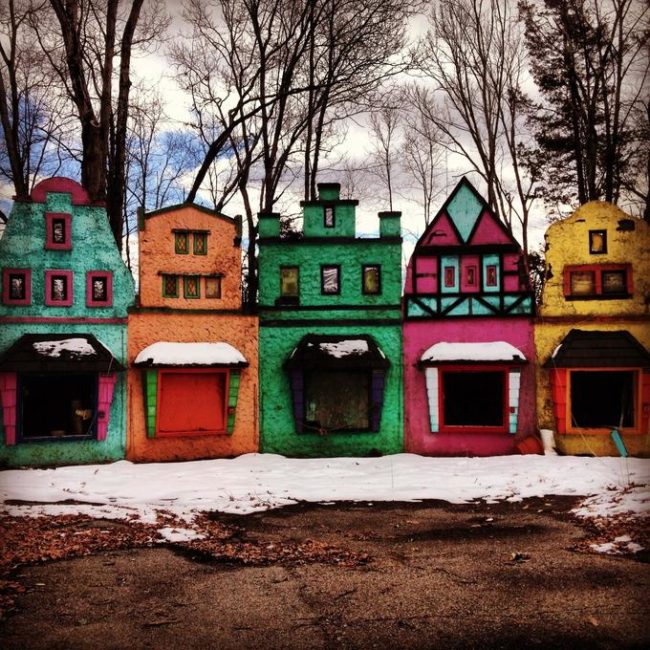 Woehle was inspired by his mother; she read him and his ten siblings old fairy tales by the fire. He made it his dream to bring those stories to life for the children of New Jersey.
For decades, the park was a beloved place for children and parents alike.
In 1994, at 96 years old, Woehle passed away. He had spent much of his life building his kingdom. He finally finished the grand mural which was used as background scenery when he reached the ripe age of 80.
The park was given to Woehle's granddaughter, Christine VanderPloeg, who renovated it for the 40-year anniversary in 1997.
Unfortunately, in 2005, the park closed for good.
The property was sold to a local storage company, and only a few of the park's features remain.
Although some of the structures have been damaged by nature and vandalism, it's surprising how much of the Fairy Tale Forest still remains.
It's also impressive that PennyLaane was able to get inside to take these photos. The property is rumored to have a particularly vigilant security force.
Though Fairy Tale Forest may never magically reopen, their Facebook community is still pretty active. Former visitors share memories and photos…the park even promotes rare events in the old parking lot!
Here's How To Make Your Favorite Ice Cream Truck Treats Before The Summer's Over: Click "Next Page" below!