In most homes, the attic is an afterthought. It's a place to store extra furniture and old things you no longer use. But with their angled ceilings and interesting layouts, attics can be just as homey as any other part of your house. With the 16 ideas below, it's easy to upgrade your attic to something beautiful. Check out the inspirational photos below and get designing.
1. Do you need another bathroom in your house? Turn your attic into a unique bathing space.
2. Make it a home theatre with a few love seats.
3. Install skylights for a cool view.
4. Make it fun by adding a swing to the rafters.
5. If you're particularly athletic, you can turn your attic into a rock climbing gym.
6. An attic makes a great play area for kids.
7. Attics make great kids' bedrooms, too, because of their low ceilings.
8. If you like photography, turn your attic into a studio.
9. If music is more your thing, turn your attic into a recording and mixing studio.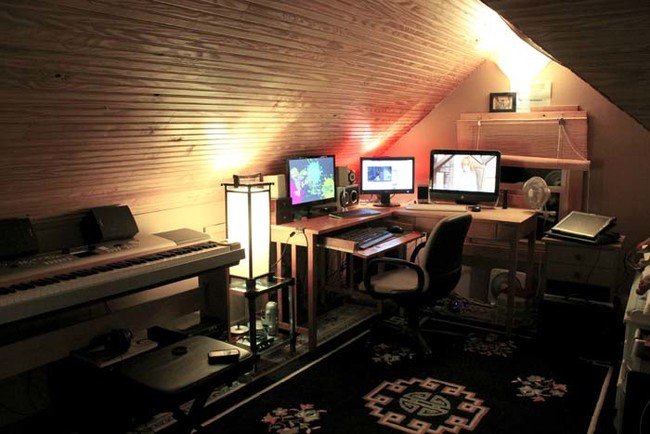 10. Is crafting your creative hobby? Attics are perfect workshops, too.
11. An attic makes a great office space, quietly above the hustle and bustle of the house.
12. No space for a living room downstairs? Move it up to the attic.
13. A few bookcases and some shelves can turn an attic into your own personal library.
14. If you have a big extended family with many kids, turn the attic into a guest room just for them.
15. Add a foosball table or a pool table to turn it into a game room.
16. If you're low on space, turn your attic into a walk-in closet.
I love the idea of turning your attic into a library. It'd be so nice to have a quiet area to read. But I also need a space to do craft projects. Now I have to decide which one of these ideas I'll take advantage of! It's going to be hard to figure out how I'll remodel my attic after seeing all of these inspirational ideas. Which one struck your fancy?
Here's How To Make Your Favorite Ice Cream Truck Treats Before The Summer's Over: Click "Next Page" below!